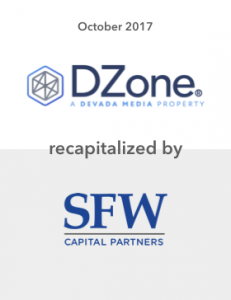 Last Thursday (10/12/17), One of Horizon's clients, DZone, Inc, received a majority private equity buyout and recapitalization from SFW Capital Partners.
DZone operates DZone.com, the leading portal that reaches 15m enterprise developers annually and offers targeted, high-impact advertising solutions for tech marketers. The Company's success with DZone.com spawned the development of AnswerHub, a proprietary SaaS platform that provides community solutions for enterprise developers at 100+ customers such as IBM, GE, and Microsoft.
SFW is a leading private equity investor in analytical tools and related services companies, including providers of instrumentation and related components and reagents, software, information and analytical business services, spanning all end markets.
Please let us know if you'd like to learn more about this transaction and the Horizon process. The transaction represents the culmination of years of work together with DZone's founders, working on areas ranging from business strategy, analytics, and branding to this specific financial transaction. Our multi-year relationship with DZone is an excellent representation of Horizon's strategic, long-term approach to creating exceptional outcomes for clients.