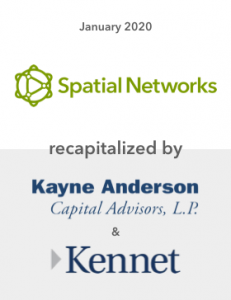 Last month, one of Horizon's clients, Spatial Networks — creator of Fulcrum — closed an investment of $42.5 million, led by Kayne Partners and Kennet Partners. The funding will primarily be used to scale the company's sales and marketing capabilities, accelerate its product development roadmap, and further expand the Fulcrum data collection platform into international markets. As part of the transaction, the company appointed Jim Grady CEO to oversee all aspects of the company's strategy and execution globally.
Spatial Networks drives digital transformation of field workforces via Fulcrum, a SaaS data collection platform for commercial field workers. A market leading platform built on multiple decades of expertise in mobile field data collection and geospatial analytics with adoption by more than 30,000 users and 2100 customers in field-intensive industries such as utilities, construction, environmental services, engineering, Fulcrum optimizes field operations by enabling rapid deployment of mobile applications using a low-code development environment. Using Fulcrum, field workers can rapidly gather a vast range of data types—including audio and video—using user-built forms with geotagging capabilities. Key decision-makers gain real time insights into field operations efficiency and performance through visualization, quality assurance and data management tools, and flexible reporting.
Spatial Network's exceptional product execution has fueled largely inbound customer demand as well as 85%+ gross margins. Its operating leverage has enabled a history of aggressive investment in technology, creating compounding competitive advantage in each business line that positions SNI for sustained, highly profitable growth
Kayne Partners, the Los Angeles-based dedicated growth private equity group of Kayne Anderson Capital Advisors, L.P., is a leading provider of capital and connections to privately held, high growth, enterprise software and tech-enabled service businesses in North America. Kayne Partners seeks to partner with driven entrepreneurs and provide capital to high growth companies at a transformative point in their life cycle in the following industries: security & compliance, supply chain & logistics, financials, business process automation, healthcare, and media & telecom.
For more information, please visit: kaynepartners.com
Founded in 1997, Kennet Partners is a Silicon Valley and London-based growth equity investor with $900 million under management. Kennet focuses on partnering with bootstrapped and fast-growing SaaS and tech-enabled services businesses with a focus on predictive analytics and AI and has a track record of building global market leaders and achieving high-value exits.
For more information, visit kennet.com
Please let us know if you'd like to learn more about this transaction and the Horizon process. The transaction represents the culmination of almost two years of work together with the Spatial Networks team in areas ranging from business strategy, analytics, pricing, and user retention to this specific financial transaction. Our long-standing relationship with Spatial Networks and both of its new investors is an excellent representation of Horizon's long-term, highly-consultative approach to financial advisory.